Our Team
Learn more about our great team at Chateau Gardens Memory Care!
Robyn Andrews, Administrator 
Robyn started with Chateau Gardens 5 years ago. She has many years of experience working with children as a Teacher's Aide, working with the homeless and mental health population and now enjoys working with elders in Memory Care and Alzheimer's progression. She has a strong compassion for others and is quick to lend a hand as a caregiver or cheer up an elder, whenever possible.
She has lived in Eugene for many years, has two wonderful sons and new grand baby, and spends as much time in the outdoors as she can. Some of her hobbies are going to the river, walking or hiking on trails, and spending time with her boys. Robyn believes in our mission statement of creating moments of Joy, Independence and Wellness. 
Lisa Duvall, Resident Care Coordinator
Lisa started at Chateau Gardens in 2005 as a Caregiver for night shift, and she moved up to a Med Aide and then to her current position as our Resident Care Coordinator. She enjoys her job and loves all of her residents. She is very interactive with the residents as well as their families. Lisa is a mom of 2 children and her daughter is also a Med Aide at chateau gardens. Her children did their homework here at the front desk when they were attending school while Lisa was working . Lisa loves to watch the Nebraska Corn Huskers when they are playing and spending time with her family. Lisa believes in our mission statement of Joy, Independent and Wellness.
Tabitha Hamilton, Community Liaison
Tabitha started off with Chateau as a part time activity assistant back in 2016. Since then, she has been doing support for health services and is now our Community Liaison for our Marketing department. She has a passion for elder care from her many years of caring for her grandmother who had Alzheimer's. I believe it is our privilege and responsibility to help assist our elders in finding safe and enjoyable living situations. She is a very friendly individual that enjoys lending a hand where it is needed. She is a mother of two children and enjoys coaching their sports teams in the evenings as well as on weekends. She loves spending time outdoors and time with her family and dogs.
Cortney Lesher RN, Health Services Director
Cortney ​​has been with Chateau Gardens for 4 years. She has been in senior care about 10 years and is currently also a staff nurse at Sacred Heart University District in acute care for the elderly, which allows her to bring so much more knowledge to our community for geriatrics. She worked as a med aid in an assisted living community while going to Nursing school at Lane community college and graduated in 2015. Her job as a med aide is what led her to her dream of being a nurse.
Cortney has lived most of her life here in Oregon. She is a busy mom of 2 beautiful boys. They enjoy spending time outdoors fishing, hiking, going to the beach and swimming.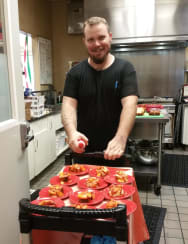 Robert Kimbrell, Dietary Services Director
Robert is originally from AZ and came to Oregon in the year 2000. Since he was a little boy, he began cooking with his Grandmother. He started in a restaurant as a dishwasher and worked his way up to Executive Chef by the time he was 24. He went to culinary school where he graduated at the top of his class and went back and taught a year later. He competed in the Oregon Iron Chef contest and also worked for an Oregon Iron Chef in his early 30's. His passion remains in the culinary field and would one day like to teach and work for hospice and teach families how to cook for their loved ones. His strong points are Italian and Mexican food. Robert says "I enjoy making people happy. You can change somebody's outlook on the day with a good meal." Robert is an asset to our community.