About Us
Our Mission: To create environments where moments of joy, independence, and wellness are the focus each and every day.
Chateau Gardens is a 28-unit Memory Care community located in a quiet residential neighborhood. We offer both private and semi-private accommodations and services for seniors diagnosed with Alzheimer's or other age-related dementias.
We offer a unique Senior Care Springfield environment like no other in the Eugene/Springfield area! Our staff is professionally trained in techniques designed to minimize aggressive behaviors in order to provide a productive, healthy environment required to successfully care for those with memory loss.
Person-Directed Approach
Our person-centered services and memory loss programming are designed to improve the senior's independence, ability to function, health and quality of life. We are able to achieve these optimal living conditions through a service plan built around each individual's life history, current abilities, and unique interests. These specialized programs, designed and implemented by our staff, include development of each elder's 'Life Story;' creative assistance techniques; methods of interventions that significantly reduce problem behaviors (based on Validation:The Feil Method®); a special physical environment that promotes optimum functioning (including both indoor and outdoor spaces); and meaningful "moments of joy."
We understand how important it is for seniors with memory loss to experience success in their daily lives. At Chateau Gardens Memory Care, residents are afforded an environment where they may find a sense of belonging, patience, companionship, and self-esteem.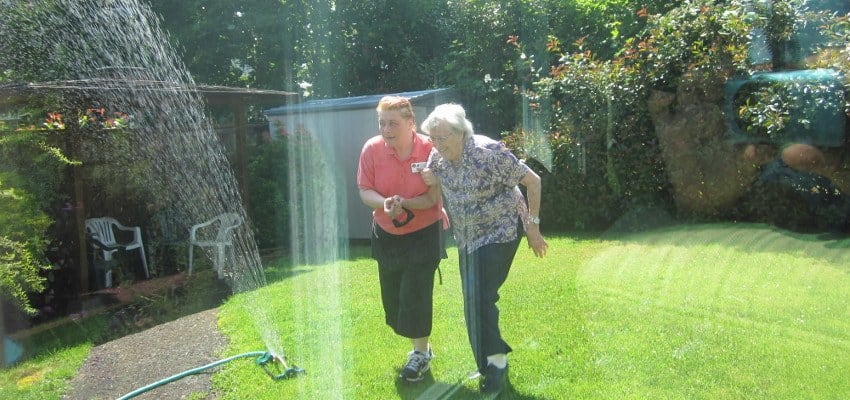 Chateau Gardens Memory Care's Mission
Our mission is simple: Creating environments where moments of joy, independence, and wellness are the focus each and every day.
Chateau Gardens Memory Care is part of the Ridgeline Management Company family. All Ridgeline communities are part of a greater network of independent, assisted living, and memory care communities across the United States. Each Ridgeline community shares the same values, philosophy, and mission yet retains its own individual personality and local mindset.
We believe in finding the best methods and people to serve our seniors—wherever they may come from. That is why Ridgeline and its communities create opportunities to share and learn from each other's experiences; to better the senior services we bring to you, our customer. Every community works together to fulfill our mission.